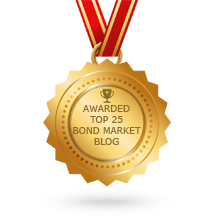 BondEconomics
was one of the top 25 bond market blogs on the Feedspot list --
link to the list.
This recognition is obviously welcome; my website has been around for almost five years, and traffic has been steadily growing. In addition to thanking the Feedspot survey team, I need to thank my readers for putting me there -- particularly those who also bought my books!
This offers a good excuse as any to do a "state of the blog" report...
When compared to the other entrants in the Top 25, I have been producing less market commentary over the past few months. Recently, my articles have been largely non-time sensitive (primers, background material, economics). This reflects some greater time commitments elsewhere; I need to produce a certain amount of non-time sensitive content to keep my book pipeline filled. Things are in better shape now, so I hope to intersperse more timely commentary going forward. Maybe the 10-year Treasury will rip off to 4%, and I will finally get to write some "The End of the World is Coming!" articles...
My website traffic has been growing steadily.
Some of my articles are picked up by Seeking Alpha
, where I also get a lot of readers. The crew at
Mike Norman Economics
have been doing a great job sending traffic my way; thanks! As for social media, I mainly scan finance/economics Twitter --
@RomanchukBrian
. Instead of writing short articles or linking things on this website, I now tend to do that on Twitter.
On the book side, sales have been steady. As a writer of specialty* non-fiction, I am not going to crack the Top 25 Best Sellers list any time soon. However, I am exploring the boundaries of my niche, and improving technically each time. The upcoming book on breakeven inflation will test the waters for a more advanced text. I am now starting what I hope is my final editing pass, and I will then have a better idea when it can be published. The next book would likely be on business cycles (which I obviously have started to think about), unless I decide to do a short banking primer.
* The Blogger spell checker has me pegged as a user of British English, and insists on "speciality." This is one of these cases where Canadian spelling follows the American...
(c) Brian Romanchuk 2018